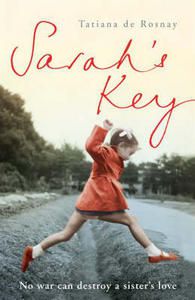 Welcome to the Sarah's Key Blog !

If you want to read more about "Sarah's Key", please click HERE
If you wish to contact Tatiana de Rosnay, please go HERE

"A heart-rending highly recommended read. Do not miss the chance to read this book."

"This is a thought provoking and gripping novel which is relevant to contemporary issues. It depicts a disturbing story about a little publicized event in recent European history."

"Don't expect to put it down until the very last page, housework, kids and husbands will have to wait until you have finished it."

" What I liked most about this book is the way you cannot tell how the story is going to end until you get there."

"Sarah's Key is a story about people rather than events and Sarah will stay with me for a very long time".
Waterstone's customer reviews
HERE
Sarah's Key - a heartbreaking tale of sisterly love in the Second World War
We asked our Waterstone's Cardholders to review Sarah's Key by Tatiana de Rosnay. We received some fantastic reviews and it seems that like us, everyone who read it was enraptured. Our winning reviewer was David Baker from Bristol:
"After reading the first few pages, nothing in my life seemed as important as finding out Sarah's fate in this gripping, sensitive and immensely moving book. Unforgettable, as it should be." David Baker, Waterstone's Cardholder Bristol