Author interview for "Sarah's Key"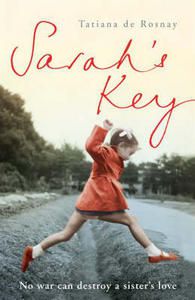 What was the inspiration for your book?
I have always been interested in places and houses. And how places and houses keep memories, how walls can talk. I was browsing on the Internet about places in Paris where dark deeds had happened, and fell upon a website describing the rue Nélaton, in the 15th arrondissement, not far from where I live. That was where the great Vel d'Hiv roundup took place on July 16th 1942. I realized I didn't know much about what exactly happened that day. I was not taught about this event at school, during the 70's. And it still seemed to be shrouded by some kind of taboo. So I started reading and researching.

How and why did you start working on this book?
As I progressed through my research, I was moved, appalled by what I discovered concerning the Vel d'Hiv roundup, especially about what happened to those 4000 Jewish children, and I knew I had to write about it. I needed to write about it. But I also knew it could not be a historical novel, it had to have a more contemporary feel to it. And that's how I imagined Julia's story taking place today, linked to Sarah's, back in the 40's.
What kind of experience has writing your book been for you (fun, exciting, agonizing…)?
Writing Sarah's Key has been a powerful experience. First of all, reverting to my mother tongue after years of writing novels in French felt exhilarating. Like coming home afer a long trip. Secondly, researching those dark times of France's past, the Occupation, the Vichy years, was tremendously enriching. But sobering, too.

Tell us anything about you as a working writer that you think might be interesting or unusual:
Being half French, half English makes me "unusual", I guess, and the fact that I grew up learning two languages, that I lived both in France, England and America, as well. I never know which language I dream in. But I always knew I wanted to write Sarah's Key in English.

Did you have any interesting experiences where you were researching your book, or getting it published?
Writing Sarah's Key took me to Drancy and Beaune La Rolande, places around Paris which have a dreaded past that cannot be forgotten despite time going by. My visits there were poignant and memorable. And it was also through this book that I met Heloïse d'Ormesson and Gilles Cohen-Solal, my French publishers, who hold world rights to Sarah's Key, and whose enthusiasm concerning Sarah –and me— have added a whole lot of excitement to my career as a writer.


Who are your favorite authors?
I admire Daphne du Maurier, Virginia Woolf, Henry James, Irène Nemirovsky, Emile Zola, Guy de Maupassant, Oscar Wilde, Charles Baudelaire, Edgar Allen Poe. And Paul Auster, Joanna Trollope, Anita Shreeve, Penelope Lively, A.S Byatt, JM Coetzee, Maggie O'Farrell, Tracy Chevalier, Joyce Carol Oates and Sarah Waters.
Copyright Saint Martin's Press and John Murray Publishers