Sarah's Key/USA juin 2007
Saint Martin's Press :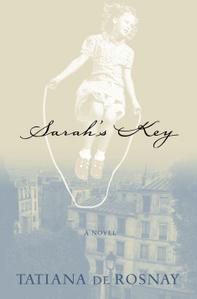 Sarah's Key
"An American journalist researches the notorious roundup of Parisian Jews and uncovers her French family's war-era secrets, in this page-turning, interconnected novel of modern-day Paris and occupied France. Paris. July 1942: Sarah, a ten year-old girl, is brutally arrested with her family by the French police in the Vel' d'Hiv' roundup, but not before she locks her younger brother, Michel, in a cupboard in the family's apartment, thinking that she will be back within a few hours. Paris, May 2002: On Vel'd'Hiv's 60th anniversary, Julia Jarmond is asked to write an article about this black day in France's past. Through her contemporary investigation, she stumbles onto a trail of long-hidden family secrets that connects her to Sarah. Julia finds herself compelled to retrace the girl's ordeal, from that terrible term in the Vel d'Hiv', to the camps, and beyond. As she probes into Sarah's past, she begins to question her own place in France, and to reevaluate her marriage and her life. Tatiana de Rosnay offers us a brilliantly subtle, compelling portrait of France under occupation and reveals the taboos and silence that surround this painful episode." To be published on 12th June 2007 by Saint Martin's Press
"This is a remarkable historical novel, a book which brings to light a disturbing and deliberately hidden aspect of French behavior towards Jews during World War II. Like Sophie's Choice, it's a book that impresses itself upon one's heart and soul forever."
–Naomi Ragen, author of The Saturday Wife and The Covenant

"Sarah's Key unlocks the star crossed, heart thumping story of an American journalist in Paris and the 60-year-old secret that could destroy her marriage. This book will stay on your mind long after it's back on the shelf."
–Risa Miller, author of Welcome to Heavenly Heights
"This debut by French-born de Rosnay has been translated into 15 languages and will surely be an international best seller. Masterly and compelling, it is not something that readers will quickly forget. Highly recommended." -Lisa Rohrbaugh, East Palestine Memorial Public Library, Ohio.